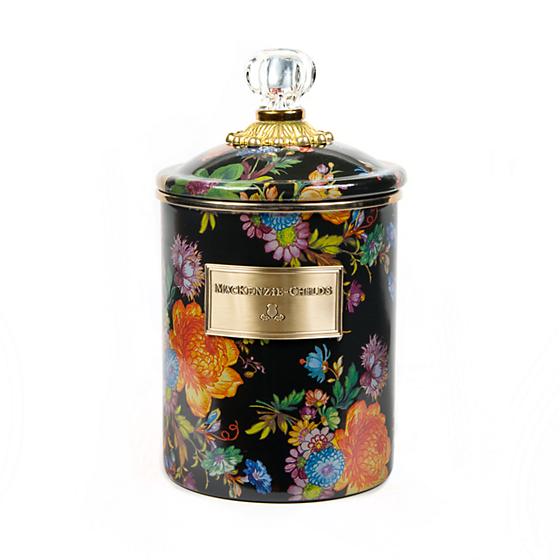 MacKenzie-Childs Flower Market Medium Canister - Black
MacKenzie-Childs Flower Market Medium Canister - Black
Flour, sugar, and coffee might seem the most obvious of contents with which to fill a set of three Flower Market Canisters, but the possibilities are endless! Keep them in the kitchen with coffee beans and tea bags, cookies and candies, or dog biscuits and birdseed-or invent new uses around the house. Perfect for cotton balls and swabs in the bathroom, pens and pencils in the office, or knickknacks and doodads in the kids' room. Color glazed in black, green or white, each Flower Market Enamel Canister is decorated with hand-applied fanciful botanical transfers that recall a lush English garden in the peak of summer. These canisters stand handsomely alone or harmonize delightfully in a multicolor set.
5" dia., 5.75" tall, (8.5" tall with lid), 48 oz. capacity

Heavy-gauge, hand-glazed steel underbody embellished with hand-applied floral transfers, rimmed in bronzed stainless steel. Lid is topped with a glass finial. Silicone seal inside lid. Pieces may vary due to the handmade nature of each product. Imported.